S40 Dual Stereo Speaker Station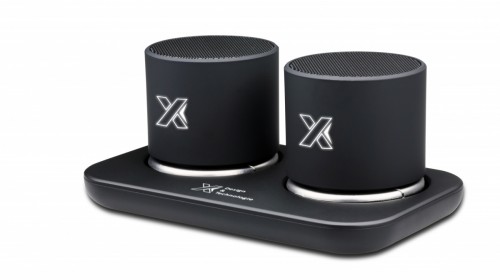 2 Bluetooth speakers in ruber with lighting logo and a double sound output on each of it, for an unparalleled sound quality for speakers of this size.
2 speakers are paired together for a full stereo sound. Conference call function with built-in microphone.
The base has a wireless recharge function and a lighting logo.
Speaker Specification
Speakers × 2
Bluetooth version: JL V4.2
Battery: 3.7V/500mAh
Output: 2 x 3W
Input: 5W
Transmission distance: 10m
Frequency: 120Hz—16kHz
Size: ø50×46.5mm
Weight: 100g
Charge time: 1.5h~2h
Play time: 4h~5h
2-years warranty
Charging base Specification
Charging Base dimension: 135×80×14mm
The product includes a micro USB charging cable (80cm).
2-years warranty